Moultrie's premier pawn shop.

The Cooper family has owned and operated Moultrie Pawn Shop since 1962. They buy, sell and trade jewelry, guns and electronics as well as Army/Navy supplies. Stop by today to see what Moultrie Pawn Shop can do for you!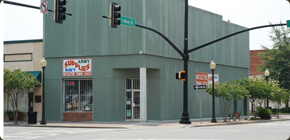 2 First Avenue SE
Moultrie, GA 31768
(229) 985-4805
Located in beautiful downtown Moultrie on the square, Moultrie Pawn Shop is convenent for local shoppers as well as those in Albany, Valdosta, Thomasville and Tifton. Call or stop by for your next great deal.
Guns
Long guns (new and used)
Hand guns (new and used)
Shotgun shells
Pistol ammunition

Clothing and Accessories
Mossy Oak pants, shirts and hats
Jackets and liners
Coveralls
Rainwear
Belts
Vests

Boots
Thorogood commando boots
Thorogood dress shoes
Jungle boots
Rubber duck boots
Rubber knee boots
Leather speed lace combat boots
GI style zipper/lace up boots


Military Style BDU's
Khaki
Black
Blue
Green
Desert Storm
Digital Camo
Digital Desert

Law Enforcement Supplies
Leather supplies
Hand Cuffs
5.11 Tactical Series clothing

Musical
Guitars
Guitar picks, cases, straps, etc.
Guitar amps
Drums
Trumpets
Banjos
Mandolins

Used Items
TVs
Tools
Guns
Knives
Jewelry

AND MUCH MORE!